I'm not sure what excuse we used for this meal out - celebrating my brother's birthday (without him!) or an Easter meal... who needs an excuse. The weather was amazing during the bank holiday and this continued into Tuesday when we decided to take a trip to Worcester. After a walk around town, up the river and stopping off at the Cathedral for a coffee we settled on The Old Rectifying House for lunch. The outside building is beautiful and the decor inside is lovely.
I'd looked up where to eat the night before and this looked the most promising. It was pretty empty but I guess everyone was still in a chocolate-induced coma post Easter.
Trying not to go too overboard we ordered the meat platter to share which included pork belly, chicken kiev, pork pie and more. All was lovely and the salad had an amazing dressing on it. The only odd thing was the bread had cinnamon in it so was rather sweet to accompany the dishes.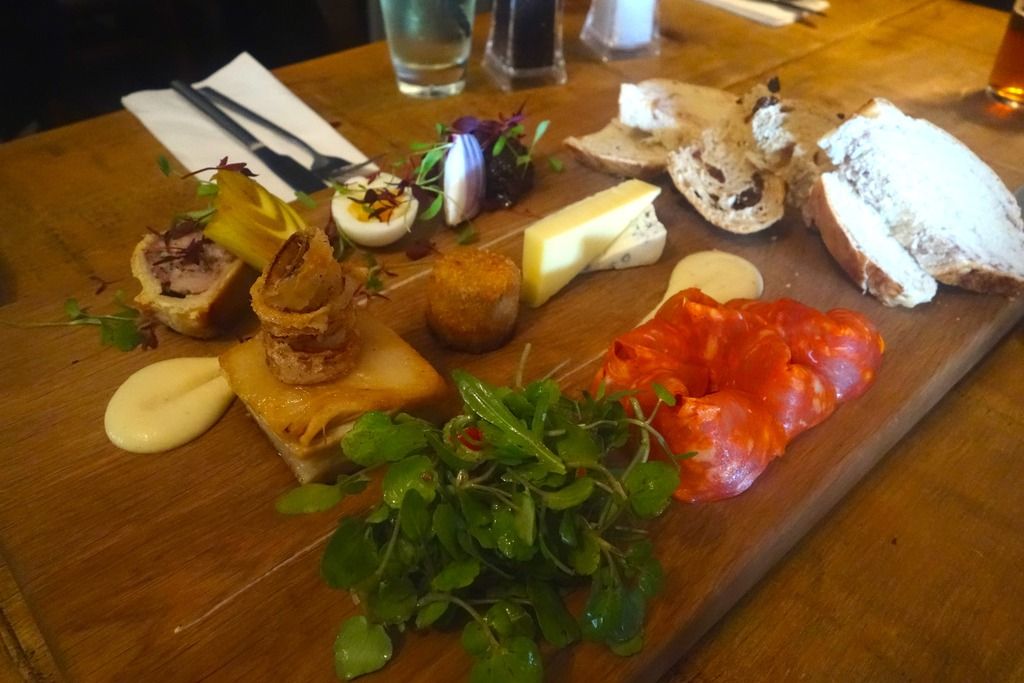 Onto mains, fish and chips for Dad, halloumi burger for me and a pork & beef burger for Mum. I absolutely loved my burger, possibly because I have strong love for halloumi but all elements were fantastic. Mum made a right mess of her burger (possibly too much bbq sauce?) but enjoyed it all the same and Dad gave a thumbs up for the fish and chips. Oh and the chips, some of the best I've ever had, I could have just had a bowl of them and left happy.
I thought it'd be rather foolish of me to turn down desert even though I was completely stuffed. On perusal of the desert menu however the only thing that took my fancy was the Cambridge Burnt Cream with Honey Madeleines. We all shared it. I assume it's an English take on a Creme brûlée as that's what it tasted/looked like, it was divine.
Overall, the meal was fantastic and the staff lovely, if a littl
e slow at times, I guess because we weren't in full view of them.
The Old Rectifying House